National Eisteddfod in Denbigh hosts new literary festival for children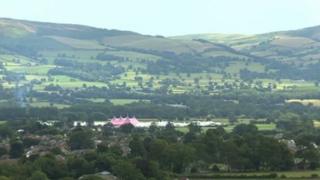 Visitors are heading to Denbigh for this year's National Eisteddfod, which will host a children's literary festival for the first time.
The week-long event at Kilford Farm on the outskirts of the town started with a concert on Friday night.
About 150,000 visitors are expected to attend the eisteddfod, which celebrates Welsh music and culture.
Another first for this year's event will be guided tours of the field - or maes - for new visitors.
Eisteddfod chief executive Elfed Roberts said: "This year we have focused a lot on improving the welcome and the experience of coming to the festival itself.
"In the past much of the work has been associated with trying to attract visitors to the festival, especially in recent years, with the eisteddfod held in areas which are new to us, but this year, it's an opportunity for us to address the maes itself and the experience during the week."
He said the children's literary Festival aimed to appeal to youngsters of all ages and it would be be the first time the eisteddfod had staged a festival within the festival.
Mr Roberts said the new initiative would see activities spread all over the eisteddfod field, or maes, to ensure children could enjoy the culture offered by the event.
"Although the literature festival is an experiment this year we hope it will be something that will develop and grow over the years," he added.
Around 300 stands and exhibition spaces will also be on the maes, while music, science, sport, culture and the arts will be celebrated.
Competitions, ceremonies and concerts will be held in the eisteddfod's distinctive pink pavilion.