Former head of Howell's School in Denbigh in 'scapegoat' claim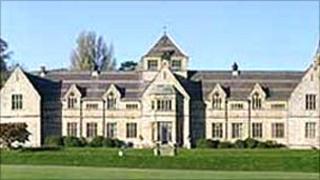 A former head teacher of a private girls' school in Denbighshire, closing amid financial uncertainty, has said he and another teacher are being made scapegoats.
Howell's School in Denbigh has shut after more that 150 years.
Bernie Routledge and Helen Price, his former partner and also a teacher, won an unfair dismissal case.
Parents were told by school trustees the compensation award had still to be settled and could be unaffordable.
A tribunal in March ruled that the couple had been sacked without reason.
It had been claimed that Mr Routledge behaved inappropriately in conduct with pupils over the social network Facebook.
But the tribunal dismissed all the allegations against him.
Ms Price, former head of pastoral care at the school, believes she was suspended solely because of her association with Mr Routledge.
Compensation has not yet been agreed but in a letter to parents last week trustee Nicola Locke said the school had to accept that the award could be "large...£50,000 or £500,000."
The letter added: "If that award is unaffordable then our charity could face closure at short notice.
"We have expected a decision on the tribunal award 'any day' since May but none has been forthcoming."
On Wednesday, Mr Routledge said the long wait for a written judgement and financial settlement award had been extremely frustrating.
But he claimed the owners of the school, Robbie and Nicola Locke were just "playing silly games" by blaming the ruin of the school on him and Ms Price.
He added: "Before the tribunal, the Lockes made a six figure settlement offer to us. But we knew that Becky Raven (a teacher who had previously won a case against the school for unfair dismissal) had not received a penny.
"In any case, we wanted to clear our names and so we didn't accept it even though it has been financially ruinous to us."
Mr Routledge said the offer of money from Mr and Mrs Locke showed they either made the offer in bad faith or they are now lying about the financial difficulties they are now in.
He said his solicitor have told him the written judgement and settlement figure will now be sent to him "any day", but Mr Routledge said the settlement figure would not be worth the paper it is written on.
Howell's School has been approached for comment.