Holywell crown post office: Concern over future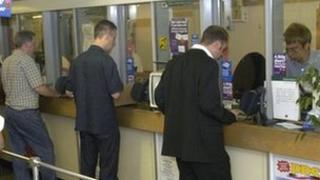 A public meeting is being held over the future of Holywell's town centre crown post office amid plans to replace it with a franchise office.
The Post Office wants to find a third party to run several crown post offices in Wales to cut costs.
A meeting at Holywell on Monday heard concerns it could hit the Flintshire town if the post office was moved.
The Post Office said plans had yet to be agreed and residents would be involved.
Jenny Windsor from the Communication Workers' Union (CWU) said: "With superstores such as Tesco on the outskirts of the town, if the post office was to be lost from this location other local retailers would lose out."
A Post Office spokesperson said its crown network of 370 branches across the UK was losing £37m a year in public money which is "something which cannot be sustained".
He said partners were being sought to run branches in Holyhead and Llangefni on Anglesey, Holywell, Rhyl, Port Talbot, Neath, Morriston in Swansea, and Carmarthen.
"There are currently 20 crown post offices in Wales out of a network of over 950 branches, therefore around 98% of the total network in Wales already operate successfully through franchises and agreements with retailers of this type," he said.
He said if no suitable retailer was found the crown branch would remain.
The meeting at Holywell Leisure Centre included local MP David Hanson, union officials and Post Office officials.