'Rock ramp' to help spawning fish pass Sarn Mill weir, Flintshire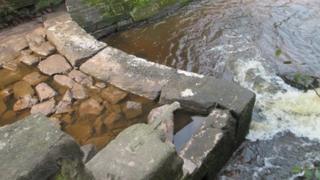 Work has started on a "rock ramp" to help migratory fish pass a Flintshire weir to reach spawning grounds.
Natural Resources Wales (NRW) says the ramp in the Wych Brook at Sarn Mill will help salmon, sea trout and eels.
NRW says the scheme will reduce the river flow, making it easier for fish to travel upstream, as well as reducing the flood risk to the Mill House.
It is hoped the scheme will boost fish numbers and help the river reach European standards.
Currently, the weir acts as a barrier to fish.
NRW spokesman Rhys Llywelyn said: "A healthy river with a thriving fish population will be good news for other wildlife that depend on it and make it a more enjoyable place for local people and anglers alike.
"Angling is worth approximately £150m to the Welsh economy so local economies will also benefit from healthier rivers with better fish populations."
The scheme is expected to be completed by November.