Avoid Snowdon, Sir Chris Bonington urges walkers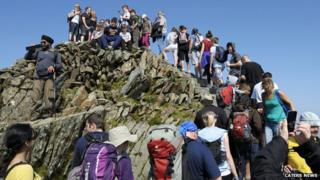 Mountaineer Sir Chris Bonington has urged walkers and climbers to seek out lesser known peaks in north Wales to avoid the sort of crowds seen on Snowdon over the bank holiday.
Large numbers of visitors meant people had to queue to reach the peak.
Sir Chris said it was great to see so many people wanting to climb but recommended some quieter routes.
However he added: "If you want to climb Snowdon and you enjoy a crowd, go for that as well. "
So many people wanted to climb Snowdon on Bank Holiday Monday they had to stand in line for a reported two-and-a-half hours.
Sir Chris told Radio 4's Today programme he was very fond of Snowdon as it was where he had started climbing as a teenager.
"It was much less crowded. But even 60 years ago there was a little cafe on top of Snowdon and of course the railway's been there since the beginning of the last century."
The 78-year-old mountaineer carried the Olympic flame to the summit of Snowdon last year during the torch relay in the run up to London 2012.
He added: "I think it's wonderful so many people go out there wanting to go up Snowdon that particular day.
"But you don't have to join the queue; you don't have to join the crowds whether in Snowdonia or the Lake District.
"Go to some of the more obscure hills and you won't see a soul all day even on a bank holiday.
"Whether you're in in Snowdonia there are lots of lovely mountains like the Carneddau and the Glyders which are slightly less popular and you won't see a soul all day.
"It's a matter of looking at your map and saying, 'I'll go there'. There's no end of guide books so you can always find some beautiful walks where there won't be any people."