Firms set to cash in on Wrexham £250m super-prison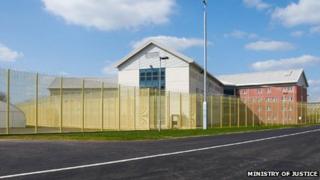 Business leaders in Wrexham say it is important local firms "maximise benefit" from the construction of a £250m super-prison.
The Ministry of Justice (MoJ) said 1,000 jobs would be created during the process to build a 2,000-inmate jail on Wrexham Industrial Estate.
West Cheshire and North Wales Chamber of Commerce said the area could benefit for years to come if it was built.
The plans have yet to be submitted to Wrexham council for formal approval.
The UK government has already said the prison would create "millions of pounds worth of construction opportunities".
But critics say prisons should be a seen as a "last resort" and not an opportunity for business regeneration.
Richard Thomas, north Wales vice-chair of the West Cheshire and North Wales Chamber of Commerce, said it was important for firms to capitalise as a project of this size "does not come along very often".
"It will be of keen interest to us that local business is given a level playing field to tender for the work," he said.
"The immediate headline is the number of jobs. These are long-term jobs so that's great news for the local economy."
'Serious spend'
Juliet Lyon, director of the Prison Reform Trust, said the prison should be a seen as a last resort and not an opportunity for business regeneration.
"This is a very serious spend and I can see why it is being welcomed by businesses but prison is an important place of last resort, it's not a place for regeneration for business," she told BBC Radio Wales.
Typical job vacancies on the MoJ website show posts being advertised at other prisons for work in sectors such as healthcare, administration, training, operational support, agricultural work, catering, building and allied trades.
The MoJ said construction of HMP Oakwood in the West Midlands, which opened last year with 1,605 prisoners, had £75m spent on employment, with 113 small and medium enterprises employed.
It added that £30m of construction work was provided by firms within 50 miles (80km) of the site.
Secretary of State for Justice Chris Grayling said of the Wrexham plans: "The new prison will provide up to 1,000 much-needed jobs, great opportunities for local businesses and millions of pounds worth of construction opportunities."
Wrexham Business Professionals Network, which represents local firms, said the project would "generate prosperity for many years to come".
Spokesperson Gill Atkinson said: "The spin-offs for the local economy will be huge with opportunities to provide goods and food, which could benefit farming as well as sub-contracted services."
The plans for the super-prison on the Welsh government-owned former Firestone site were announced on Wednesday.
Now, consultation with local residents and businesses is due to start before the MoJ submits its proposals to Wrexham council for approval, with work starting next year if the go-ahead is given.
Welsh Secretary David Jones told BBC Radio Wales on Thursday that the project would have "great impact" on the locality and be "hugely beneficial to Wrexham borough".
He added: "I think one of the most important aspects of the Wrexham proposals is that not only the local authorities but also local businesses and education providers have come together and have said they are very anxious to help prisoners rehabilitate in this location.
"It will provide decent accommodation for prisoners and also to improve their... rehabilitation."