Bodelwyddan Indesit site: Council refuses estate plans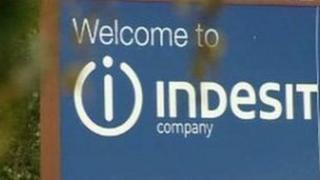 Plans for an industrial estate on the former Indesit site in Denbighshire have been refused.
A report discussed by councillors on Wednesday said the application for the Bodelwyddan site was in conflict with its local development plan (LDP).
Applicant Hadleigh Industrial Estates wants to build industrial units and homes.
The old Indesit washing machine plant, which once employed 1,000 people, closed in 2009 with 300 job losses.
The report said proposals included "a major mixed use development on the Kinmel Park Industrial Estate".
The plans included 126 homes, industrial premises, parking spaces and other developments.
Bodelwyddan Town Council opposed the application on several grounds, including concerns over congestion problems and the impact on local schools.
In recommending the plans for refusal, the report said: "It is considered that the loss of 3.6 hectares of employment land would prejudice the ability of the area to meet a range of local employment needs."
Richard Lanyon, managing director at Hadleigh Industrial Estates, said: "We are disappointed with the outcome of the decision and will be reviewing our position with regards to the site but we are not ruling out further discussions with the local authority.
"We've spent a large sum of our own money bringing what we know is the only viable plan for the site to the table, so clearly we have to take a view on whether it's worth investing more."