Denbigh Magistrates' Court set to become museum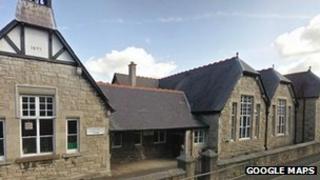 Denbigh Magistrates' Court closes on Friday and could soon become the town's new museum.
The Victorian building originally opened as a school before the court service took over in the 1980s.
The town council is in talks to buy the building and is applying for a loan for about £200,000.
The closure was announced in December 2010 as part of a series of court closures across the country.
Local opposition failed to alter plans by the HM Courts and Tribunals Service (HMCTS).
Denbigh Library formerly had a museum but residents set up Denbigh Museum Board to try to open a new building.
Now the town council hopes to buy the court building and possibly lease it to the board for a museum.
"We have enough things in Denbigh to fill two museums," said town clerk Medwyn Jones.
Since 2009 Denbigh Community Archive has been digitising artefacts, documents and photos and making some available online.
The town has dozens of historic buildings including its castle built in the 1200s and Victorian mental health hospital.
It also has connections with Victorian explorer HM Stanley.
A HMCTS spokesperson said: "Denbigh Magistrates' Court will close on 27 September 2013. This follows the December 2010 announcement, following public consultation, to close 142 courts in England and Wales - 93 magistrates' courts and 49 county courts."