Work to stop Loggerheads Country Park boundary stone collapsing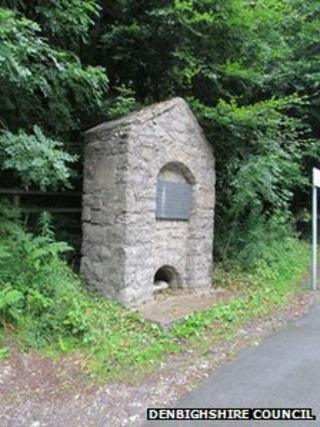 Work is under way to stop a stone boundary marker on the Flintshire-Denbighshire border from collapsing.
The monument and plaque at Loggerheads Country Park, near Mold, was in danger of falling into the road when cracks appeared after severe winters.
It is being restored and secured by a local stonemason.
The monument was established in 1763 to resolve a dispute between local landowners, and is thought to be where Loggerheads gets its name.
The Grosvenor Estate and the lords of Mold were involved in a bitter row over land and mineral rights, which resulted in a High Court case which found in favour of the lords.
The monument was then erected to mark the boundary.
Wardens at the country park noticed a plaque had come loose and was leaning into the road, and the monument itself had cracked.
Glyn Williams, warden for the Clwydian Range and Dee Valley Area of Outstanding Natural Beauty (AONB), said: "The stone carved plaque was about to fall onto the pavement.
"The last few winters have probably taken their toll on the structure creating big cracks that are now undermining the whole thing."
The AONB secured funds to restore the monument and enlisted the help of local stonemason Jason Wyn. The work is expected to last a few months.
The monument was erected over an older stone - Carn March Arthur - which legend says is marked by the hoof of King Arthur's horse as it leapt from Moel Famau.