Wartime bombs found in seabed at Gwynt y Mor wind farm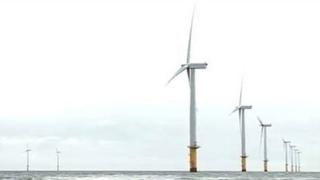 Three unexploded World War Two bombs have been found in the seabed at a wind farm off the coast of north Wales.
A 250m (800ft) exclusion zone was put in place at Gwynt y Mor offshore wind farm under construction in Liverpool Bay.
RWE Innogy UK said it was not uncommon to find such devices.
The 160-turbine wind farm eight miles (13km) off Llandudno in Conwy county aims to power almost a third of homes in Wales.
In a statement, RWE said: "Construction activity is continuing elsewhere in the offshore site, with vessels complying with a 250-metre exclusion zone which is currently in place in Liverpool Bay around the objects.
"RWE is working with a number of contractors and consultants to identify the safest method of removal, and applications have already been submitted for the appropriate licences.
"It is not uncommon for unexploded ordnance to be found on the seabed and standard procedures are in place to deal with [them].
The wind farm is due for completion this year with 160 turbines producing enough electricity to supply 400,000 homes.