St Asaph flood death woman Margaret Hughes 'felt safe'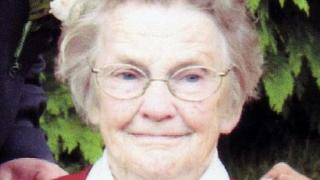 A 91-year-old woman who died during severe flooding had told emergency workers she believed she was safe, a coroner has heard.
Margaret Hughes was found drowned in her home during floods at St Asaph, Denbighshire, in November 2012, a pre-inquest hearing in Ruthin was told.
On the morning of the floods, Ms Hughes had said she did not think water would come into her home.
Water levels rose by up to 7ft (2.1m) in places in about 30 minutes.
The hearing was told that Ms Hughes's family had wanted the inquest to be heard before a jury.
But a jury could only be used if the coroner suspected the death resulted from an act or omission of duty, said John Gittins, coroner for North Wales East and Central.
Graham Wells, representing North Wales Police, said: "There's no indication here that any officer has acted, or omitted to act, in such a way that death results."
Mr Wells told the hearing that Ms Hughes had been visited by authorities that morning, including a member of the Red Cross.
She had given them "a very clear answer that she was warm and she was having breakfast" and did not think the water would come in, the hearing was told.
Mr Wells added that police had "no power to move somebody who... has the mental ability to make decisions... there's no power to force them".
"It would appear that at 09:38 or thereabouts, the [police] control room was given information to the effect that everybody had been spoken to and those who were still there had indicated they wanted to stay in their homes," he said.
When asked by a member of the team representing Ms Hughes's family whether he would consider a jury inquest if negligence could be proven, the coroner said: "Negligence isn't something that's allowed to come into my psyche."
He added: "This is never going to be a trial."
Action group
Before deciding against a jury inquest, the coroner told the family: "Truth be told... I think you will end up with a better inquiry with me sitting alone. I really do."
The coroner agreed Ms Hughes's family could be represented by an action group formed after the flooding.
However, he said the inquest must remain focused on her death.
He said his job as a coroner was "not to conduct a public inquiry into flooding. That said, it will be necessary to look at... issues surrounding the flood generally".
There are 64 statements and the inquest is expected to hear from 26 called witnesses, including residents, RNLI crew members and police.
The inquest is expected to last five days and is provisionally set for October.