Anthony Staff jailed for 10 years for Barnaby Clegg kidnap and assault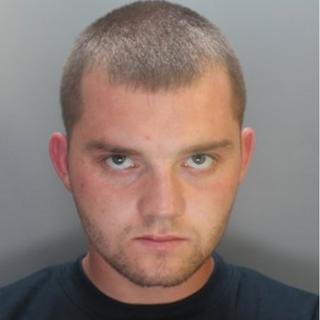 A Denbighshire man was kidnapped, stripped and beaten before being found wandering dazed and naked in a street, Mold Crown Court has heard.
Barnaby Clegg from Rhyl was driven to Liverpool in the ordeal last October over a drugs debt.
Attacker Anthony Staff, 24, from Wallasey, Merseyside, was jailed for 10 years for his part in the incident.
The sentence will run concurrently to a 40 month term he received last week for assisting an offender in a murder case.
Just two days after that incident, Staff travelled to Rhyl as the passenger in a car driven by his partner Joanne Schless, 24, the court heard.
There they kidnapped Mr Clegg, who was addicted to heroin and cocaine, over an unpaid drugs debt, the sentencing hearing was told.
Staff entered Mr Clegg's flat, attacked him and marched him to the waiting car in which they returned to Liverpool.
He was taken in the dark to a park where Staff and three unidentified men stripped him before they punched, kicked and stamped on him.
Mr Clegg told police how the attackers "beat seven bells" out him and he was left with bruising and swelling to his face and body and a broken nose.
Staff was sentenced to 10 years in jail for attempting to cause grievous bodily harm, four years for kidnap and one year for an assault occasioning actual bodily harm (ABH) which will run concurrently,
Schless, also from Wallasey, was convicted of kidnap and received a 21 month sentence.
Both had denied the offences but were convicted after a trial which could not be publicly reported at the time because of the then impending proceedings in Liverpool.
After the hearing, senior investigating officer Det Insp Sion Williams from North Wales Police said: "I have no doubt Staff and Schless were part of an on-going trend of Merseyside-based drugs dealers who are operating in our area using violence and intimidation to reinforce their supply of controlled drugs.
"They intimidate some of the most vulnerable members within the community to enhance their own status and wealth.
"The message here is a simple one and regardless of where you live; if you use violence and threats to further your criminal enterprise then you will be relentlessly pursued, prosecuted and imprisoned where you will have plenty of time to reflect upon your lifestyle."
Two days before the kidnapping Staff hid a blood-stained car in which a dying man's body had been carried before it was burned out to destroy vital DNA evidence.
In February drug dealer Nazzareno Abela, 47, was jailed for a minimum of 22 years after being found guilty of murdering Mark Reissing in New Brighton, Merseyside, by battering him with a table leg and stabbing him with a knife last July over a £50 drugs debt,
Staff admitted assisting an offender and was jailed for 40 months at Liverpool Crown Court last week.