Caia Park estate anti-social behaviour target of police action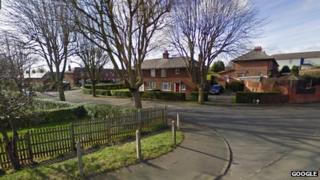 A police inspector says "kids are destroying" a Wrexham housing estate as officers increase patrols to cut down on anti-social behaviour.
Caia Park community councillors asked for help after a spate of incidents with cars damaged, stones thrown at windows and garden fences ripped up.
Many of the children carrying out the vandalism are aged under 10.
Wrexham council said court action and eviction was possible if tenants' children are found to cause problems.
"It's horrendous," said Edna O' Hagan who has lived on the estate for 13 years.
"I'm out all day and I don't know what I'll come back to. It's not just me.
"Lots of people on my street have had eggs and mud thrown at their front windows, windows broken, fences broken."
Mrs O'Hagan has reported incidents to the police and the council but has been told that they need evidence to act, and there is the additional problem that many of the youths involved are under 10 and the age of criminal responsibility.
Town police inspector Paul Wycherley from North Wales Police said letters had been written to some parents warning them to get their children's behaviour under control.
'Lack of responsibility'
"Last week on Sycamore Road there were incidents of youths throwing mud at windows and making threats," said Insp Wycherley. "There has been anti-social behaviour at Montrose Gardens and similar on Eaton Drive.
"We're trying to get to the root cause of the problems as kids are destroying the area."
He said that as well as children facing action police will also deal with their "lack of responsibility as parents".
The letters are part of a multi agency 11 point plan drawn up to tackle the problems with council youth workers accompanying the police on patrols of the area in the afternoons and evenings.
Wrexham council is also reminding tenants about the terms of their tenancy agreements warning that the behaviour of their children could put their council property in jeopardy.
A council spokesperson said: "Should any tenant, their children or visitors behave in a manner that could be alarming or distressing to their neighbours the council can take action through mediation and ultimately the courts to uphold the tenancy agreement.
"In the small amount of cases where action becomes necessary we will not hesitate to take whatever steps are necessary to ensure that all our tenants can live in peace and quiet in their homes."
'Consequence'
Mrs O'Hagan, who says the majority of the children in the area are respectful and polite, was recently intimidated by around 20 youths holding sticks and poles at the end of her road.
"I won't let them stop me going out or then they think they've won," she said adding that she is pleased action is being taken by police and other agencies.
"Fingers crossed it makes a difference," she said.
"Things have calmed down in the past but then flared up again but something has to change.
"There's an elderly lady living over the road from me, alone. We've seen the youths actually urinate in her garden, climb on top of her shed and thrown mud bombs. She's probably terrified."
Insp Wycherley said: "We have a patrol of the area late afternoon and early in the evenings... so people who live there can go back to living normal lives again.
"As a last resort we'd have to get a dispersal order to prevent them (youths) congregating in the same place at the same time. These kids need to know there is a consequence."