Flint sixth form schools' future agreed by Flintshire council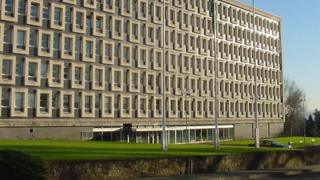 A sixth form partnership involving two high schools in a Flintshire town will be allowed to continue, councillors have ruled.
Flintshire council is planning a major overhaul of post 16 education with a new hub opening in Deeside.
It had also been considering the future of sixth form education at Flint High and nearby St Richard Gwyn schools.
But teachers, parents and pupils have been campaigning to retain local sixth form education by joining forces.
Councillors agreed to allow them to continue subject to an annual review at cabinet meeting at County Hall, Mold, on Tuesday.
'Guidance and challenge'
Councillors "listened and acted for the benefit of Flint", according deputy council leader Bernie Attridge in a message posted on Twitter.
Over 1,000 people took part in the consultation about the future of the sixth forms at St Richard Gwyn Catholic High School and Flint High although the report said there was "evidence of multiple completion of forms".
Flint High describes the partnership as an "ideal solution, not only for our two schools but for the wider community of Flint" with both facilities offering over 30 different courses.
St Richard Gwyn school website says: "Students benefit from the ongoing support, guidance and challenge of their home school and the wider subject choice together with the flexibility, expertise and resources which two schools can offer."
The county council began consultations on its school modernisation programme in 2011.
It has prompted a number of protests which saw proposals dropped in 2012 to merge some Flintshire high schools to cut surplus places.