Plans to explode WW2 bombs found in seabed at Gwynt y Mor wind farm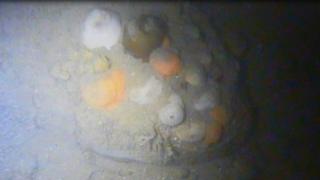 Preparations are under way to remove three unexploded bombs found on the sea bed at a wind farm site off the north Wales coast.
The World War Two bombs were discovered three weeks ago during ongoing construction at the Gwynt y Mor wind farm in Liverpool Bay.
Specialist contractors will carry out controlled explosions when the conditions are right in the next few weeks, RWE Innogy UK said.
An exclusion zone remains in place.
RWE's Gwynt y Mor project director Toby Edmonds said: "We hope to be able to carry out the removal of these bombs as soon as possible but the weather and sea state conditions need to be just right, which means we are unable to give precise details.
"The controlled explosions will not be visible or audible from shore and they will have no impact on the existing wind farm and other structures in Liverpool Bay.
"Proper advisory notices and information is being passed to relevant authorities, local fishermen and other seafarers.
"Until the bombs can be made safe, a 250m exclusion zone remains in place around them with work continuing as usual in other parts of the offshore construction site."
Gwynt-y-Mor is eight miles (13km) off the coast of Llandudno.
The wind farm is due for completion this year with 160 turbines producing enough electricity to supply 400,000 homes.