Waen AD food waste plant to start generating power by summer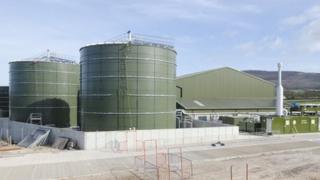 A recycling plant which will generate power from food waste in three counties is due to be operational by the summer.
The £7.5m Waen AD (anaerobic digestion) plant, near St Asaph, will take waste from Flintshire, Conwy and Denbighshire.
The councils behind the scheme claim it will process 22,500 tonnes of food a year, to power about 1,500 homes.
Biogen, which is building the plant, said it will be commissioned in May, and fully operational by the summer.
It will also generate a biofertiliser for local farmland.
Sam Bates, waste operations manager at Denbighshire council, said the site was "progressing well".
Simon Musther, head of commercial operations at Biogen, said: "Recycling food waste at the Waen AD plant will ensure cost savings and environmental benefits to the local area making this a real win-win."