St Asaph: Six options for new flood defences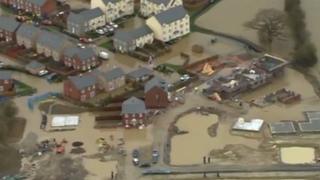 Six options are being considered to help avoid a repeat of floods in which a person died and 400 homes were overrun in St Asaph in Denbighshire.
The floods hit the town and surrounding areas in November 2012 and left dozens of families displaced for months.
The report by Natural Resources Wales (NRW) said the options had been tested using new flood modelling, which includes updated data from the 2012.
The choices include raising embankments in St Asaph or lowering them downriver.
Margaret Hughes, 91, died during the flooding in St Asaph and many families were displaced for several months for flood repairs.
Floods' impact
Other communities affected by flooding included Denbigh, Corwen, Rhuddlan, Llanbedr Dyffryn Clwyd, Glyndyfrdwy, Gellifor and Llanynys.
The inundations came after record levels of rainfall which led to the River Elwy bursting its banks.
Water levels rose by up to 7ft (2.1m) in places in about 30 minutes.
Flood specialists from NRW will now work with engineers to conduct detailed studies to decide on the most feasible single option or combination of options.
The six options are:
raise embankments through St Asaph to downstream of Spring Gardens bridge
raise embankments through St Asaph and remove Spring Gardens bridge
lowering embankments further downstream from Spring Gardens bridge so floodwater can spill onto the flood plain
lowering embankments further downstream from Spring Gardens bridge and removing the bridge
removing more trees from Old Bridge to Elwy Crossing
using an upstream storage area to alleviate flooding through St Asaph
Once each option has been analysed, a business case will be compiled and given to the Welsh government.
Keith Ivens from NRW said: "The flooding of 2012 brought misery to the lives of hundreds of people in St Asaph, and we are committed to finding a solution to reduce their risk of flooding in the future.
"Publishing the options is an important step forward.
"We now need to assess which of the options, individually or in combination, will work best for St Asaph and we welcome input from local people who know the area well to help us make this decision."