Community buys 100-year-old pub near Ruthin after it went bust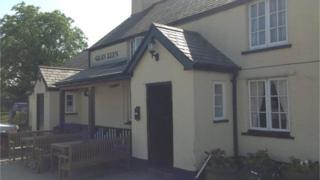 A 100-year-old Denbighshire pub that went into receivership last year has been bought by villagers after a three-month fundraising campaign.
The purchase of the Glan Llyn Inn in Clawddnewydd, near Ruthin, was backed by a £90,000 Wales Council for Voluntary Action loan.
Volunteers are now running the pub.
Since last month's takeover the pub has become profitable again, the community shop is moving there and three jobs are being created with a refurbishment.
Alan Parkes, treasurer of the local community association which has bought the pub, said it has already revitalised the village.
"The local community is really behind what we're doing, and we've already held a number of parties and made a big event of the Wales rugby matches during the Six Nations.
Ghost towns
"We served pizza for the Italy game, coq au vin when we played France, and roast beef for the England match. It's been good fun and trade has been excellent," he said.
Local councillor, Eryl Williams, chairman of the community association, added: "The pub is over 100 years old and we have seen what's happened in some of our neighbouring communities, which have become ghost towns at night.
"With all our community-run ventures, we have found that the age balance has changed. Young people have moved back into the area and the local school is bursting at the seams."
The WCVA loan was from its Communities Investment Fund which helps not-for-profit organisations access loans that they would not be able to obtain from commercial lenders.
Fund manager Matthew Brown said: "By securing the pub, the village has retained an important community asset which will keep revenue in the local economy and create training and employment for people in the area.
"Our message to social enterprises and third sector organisations is that if you have a viable business proposition, the finance is available. We don't want good ideas to fail because of a lack of funding."