Buckley's Steven Grey jailed for 'campaign of terror' against girlfriend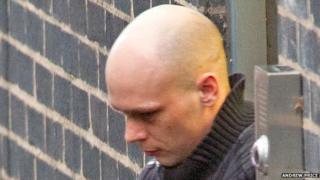 A man has been jailed for nine years for a "campaign of terror" against his former girlfriend, including an allegation of dousing her in petrol.
Steven Anthony Grey, 28, from Buckley, Flintshire, was also banned from approaching his victim for life.
Mold Crown Court heard how in one incident he grabbed Anne Marie Moore by the hair, pulled her to the floor and threatened to burn the house down.
He had already admitted wounding and assault, and making a threat to kill.
The court heard how in July last year he grabbed mother-of-three Ms Moore by the hair and held a lighter over her while dousing her in petrol. He threatened to set the house alight with her inside.
Grey admitted the threat claiming he had red diesel and a lighter at the time but denied pouring the fuel over her.
In a second incident, he made his way into her home on Deeside in the early hours and struck her head and legs with a crowbar, the court was told. As she screamed for help, he knocked her to the floor and stamped on her face.
'Sustained attack'
The court heard how he then kept her a prisoner in her own home after taking her keys and mobile phone. Grey's mother alerted police after Ms Moore left the house in Shotton in September of last year.
Jayne La Grua, prosecuting, said Grey bombarded Ms Moore with angry text messages including one which read: "Game on, rampage, on a mission to kill n ruin everybody in my life b4 I go... go out in style n take u all with me even all ur m8s."
Judge Niclas Parry told Grey: "You have been convicted of what can only be described as a campaign of terror against the mother of your three children.
"In July of last year you grabbed her by the hair, you pulled her to the ground and punched her to the back of the head. You threatened to burn the house down with her inside it.
"No doubt fortified by the belief that because she had not reported you in July, you carried out a premeditated, terrifying and sustained attack upon her in September."
Grey had denied aggravated burglary and a second charge of the false imprisonment of Ms Moore last year but the jury took just 20 minutes to convict him.
Following the verdict, Robin Boag, defending, said Grey had appeared obsessional at times but had now lost everything.