Wrexham's indoor markets in £3m transformation plan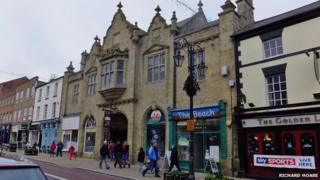 Radical plans to transform Wrexham's town centre markets with new cultural and night-time attractions are to be considered by councillors.
The £3m proposal suggests opening restaurants and bars in the General Market and a cultural centre in the People's Market, with the Butcher's Market keeping traditional stalls.
Concern about the growing number of empty stalls prompted the study.
But some traders say efforts to promote the markets should be given a chance.
The Butchers' Market was built in 1848 and the General Market was built in 1879, both being Grade-II listed buildings, while the People's Market opened in 1992.
Fresh produce
Declining stallholder numbers from around 90% to 70% occupancy rates prompted managers in February 2013 to recommend partially closing the General Market and moving stallholders into the other two buildings.
But councillors rejected the idea in favour of cautious re-investment and better promotion of the markets while ordering a study into long-term options.
Consultants Quarterbridge have reported back with a plan to transform the indoor markets to boost their use and ensure their future.
The People's Market would see stall numbers cut to make room for a £1.4m cultural and arts operation
The General Market would be refocused on bars and restaurants to stimulate the night-time economy at a cost of £729,000
The Butchers' Market to be retained as a market with £890,000 worth of investment and more emphasis on fresh, local produce
However, representatives of market traders told council officers at a meeting in February that they had doubts about the arts and restaurant proposals and feared that rents would go up to pay for the investment borrowing.
Barry Williams, owner of the Beauty Box and secretary of the Wrexham branch of the National Market Traders' Federation, said stallholders in the People's Market opposed the idea of losing space to a cultural centre, claiming a new management team had boosted traders' numbers again.
"In September we had a new team which has done more for us in six months than in the last ten years," said Mr Williams.
"We all say no way can a cultural centre sit next to a market - during construction there'd be absolute chaos, and I can't believe there'd be much footfall when it opens.
"What it needs is the right management to turn the markets around - I still believe the people of Wrexham want a market, not a cultural centre."
The consultants said that although the cost of refurbishments would be difficult to justify in commercial terms, grant funding could be available for projects such as a cultural centre.
Wrexham council's employment, business and investment scrutiny committee is due to consider the plans at a meeting on Wednesday evening and make recommendations to the council's executive board.