Work starts to protect rare little terns at Gronant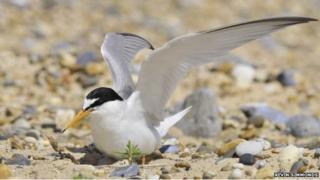 Work is under way to protect one of the UK's rarest seabirds.
Little terns breed on a shingle beach in north Wales, they return each April from Africa to nest at the Gronant dunes on the Dee estuary but there is a warning the birds are threatened by climate change.
A five-year EU partnership aims to make sure the bird has a long-term recovery in Wales.
Beach visitors, in particular, are being urged to give the birds space.
The RSPB says other UK little tern colonies - on the Tees and in Lincolnshire - have already been lost because of changes to the UK coastline, and predictions of increased coastal flooding and sea level rises could spell further disaster for these elegant tiny seabirds.
Colin Wells, site manager for the RSPB on the Dee Estuary Reserve has helped erect and maintain a predator exclusion fence, and monitor breeding numbers at Gronant.
He said: "These dainty little seabirds, no heavier than a tennis ball, have just started returning to our shores and travelling thousands of miles from their wintering sites off the south and west coasts of Africa.
"We need to make sure that they have the best chance of finding a suitable home when they arrive."
He said the local community could help by giving the little tern the space to breed undisturbed. Beach visitors are advised to observe local signs and avoid entering certain areas during the season.
Fifty per cent of the work in Gronant has been funded by Natural Resources Wales (NRW) and a local caravan business Haven Leisure at nearby Presthaven has also contributed.
Adrian Hibbert, from Denbighshire county council countryside service, said the little terns were one of the species "most vulnerable" to climate change, with the beaches they need to breed quickly becoming unsuitable because of rising seas and floods.
"In the past the areas lost to flooding or storms would be offset by new areas of sand or shingle thrown up by the sea," said Mr Hibbert.
"This is now being prevented by hard sea defences and other man-made developments.
"The result, known as coastal squeeze, means beaches are getting narrower and the little terns are quickly running out of space."