Warning off-roaders are 'damaging wildlife' in Wales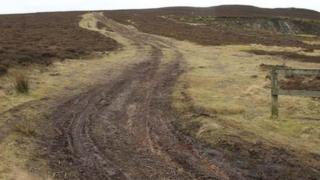 Illegal off-roading in mountain ranges across Denbighshire is damaging protected wildlife habitats, Natural Resources Wales (NRW) has said.
The warning follows a spate of illegal trespassing in 4x4s across the Berwyn, Ruabon and Llantysilio mountains.
This has damaged valuable farmland and moorland and has disrupted rare birds.
The agency is asking people to report incidents to police and has warned drivers they could face prosecution if caught.
The affected moorlands are protected by UK and European law for important habitats such as blanket bog, heather and cotton grass.
They also provide a home to rare birds including the hen harrier, merlin, peregrine falcon, golden plover, red grouse and black grouse.
NRW said the vehicles had left deep tyre tracks on the land and in one area had disturbed a lead spoil heap, which meant the toxic metal was at risk of leaking into nearby streams.
Rugged landscape
The agency said the damage posed a threat to the enjoyment of visitors who provide a boost to the local economy, and had a direct impact on the livelihood of farmers who had to replace damaged fences and gates.
Nick Thomas, of NRW, said the drivers see navigating their way across the rugged landscape as a challenge.
But he said the agency was working with police to catch those responsible.
"We will have operations where we try to catch people in the act and then we can prosecute them, confiscate their vehicle and maybe get the vehicle crushed," he said.
North Wales Police wildlife crime officer Sgt Rob Taylor said anyone found to be causing damage to conservation sites was likely to face legal proceedings.