Job losses at Kellogg's Wrexham factory almost halved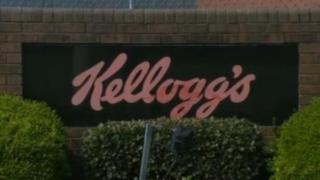 Cereal maker Kellogg's has almost halved the number of jobs being cut at its Wrexham site following a consultation.
The firm announced in January that 140 jobs were to go but that has now been cut to 79 voluntary redundancies.
An additional 26 workers have opted to leave and Kellogg's is recruiting to replace them.
Union Usdaw said job losses had been significantly reduced through "effective consultation".
A spokesman for Kellogg's said: "There is still more work to be done to make our Wrexham factory more efficient and that's why we are now starting consultation with our salaried employees, with potentially up to 20 roles affected from among this group.
"In total, we expect to have just under 100 fewer roles in our Wrexham manufacturing facility at the end of consultation."
Usdaw's national officer David Gill said he believed the Wrexham plant, which employs about 540 staff, was now set up for the future in the best possible way.
"There was an over subscription of volunteers for redundancies, so we have agreed with Kellogg's that all employees who applied for voluntary redundancy or early retirement will be able to leave and there will no compulsory redundancies," he said.
"At the start of a 90-day consultation period our priority was to save jobs, maximise employment on the site and ensure that if any staff have to leave they do so on a voluntary or early retirement basis," Mr Gill added.
"We have gone a long way towards achieving that."