Fight continues over Plas Madoc Leisure Centre in Wrexham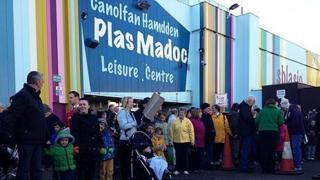 Campaigners fighting to save a Wrexham leisure centre say there is a lot of work to do before they can consider taking over the council-run venue.
Plas Madoc Leisure Centre closes on Sunday but Splash Community Trust has until 1 October to save it from demolition.
The council has to find savings of £45m over five years and says it can no longer afford to run the facility.
It said it was doing everything it could to support the trust.
The authority has already postponed plans to demolish Plas Madoc to give volunteers time to come up with an action plan, while campaigners have staged protests aimed at saving the centre.
Stella Matthews, one of the directors of Splash Community Trust, told BBC Radio Wales that campaigners were hopeful they could re-open Plas Madoc.
"We've got a lot of work to do but Wrexham County Borough Council seem to be working with us now," she said.
"They're very positive in the help they're offering, so if the figures stack up then we should be successful."
Ms Matthews added: "We have to prove that we've got a viable business plan to draw down funding, hopefully to be able to take the leisure centre forward."
The trust is holding what is describes as a "dry swim around the building" on Sunday when the council closes the centre.
"Come along and bring your goggles," said Ms Matthews.
"Come and support and celebrate Plas Madoc and celebrate the work that's being done towards re-opening the facility as quickly as possible."
David Griffiths, who is responsible for health and adult social care on Wrexham council, said: "We are doing everything we can to support the trust take on the lease and to achieve their goal of re-opening Plas Madoc Leisure Centre.
"We will continue to work with them to that end."