Parts of Wrexham 'like a jungle' due to less grass cutting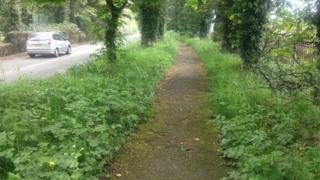 Areas of Wrexham are becoming like "jungles" because of a reduction to the borough council's grass-cutting service, it has been claimed.
Grass-cutting in some open spaces and verges has been reduced from eight cuts a year to two in a bid to save money.
A group of councillors has launched a petition calling for the decision to be revoked, claiming it could deter investors and tourists.
The council said its grounds maintenance budget was cut by £300,000.
The local authority faces having to make £45m worth of cuts over five years and a report earlier this month highlighted a series of reductions to the grass-cutting service, which included "all the open spaces and verges from the present 6-8 cuts, down to 2 cuts".
'Economic disaster'
It has been claimed some areas are already looking untidy and members of the Wrexham Independents Group have launched a petition.
It claims: "Despite it only being April, residents are 'up in arms' at the scruffy state of our county and some are threatening to withhold partial payment of council tax on the basis that the council are charging more but delivering less.
"The untidy state of our county borough also discourages potential investors and tourism alike from visiting the county borough. In fact it is an economic disaster for Wrexham."
Cllr Arfon Jones, who represents Gwersyllt West for Plaid Cymru and is aligned to the independents, started the petition.
He said: "Grass-cutting has gone down from six to eight cuts, depending on the weather.
"We're at the end of April now and the place is like a jungle."
Cllr Bob Dutton, Wrexham council's lead member for environment, said the "extremely difficult" budget situation saw a £300,000 reduction in the grounds maintenance budget for 2014/15.
He added: "It was proposed to reduce the number of cuts of the majority of the areas, which includes all the open spaces and verges.
"The total area of grass we cut would remain the same."
He said town centre and civic areas like war memorials and the cenotaph, would be maintained to the "existing standard," while highway verges will be cut for safety, signage requirements "or where the grass becomes a road traffic hazard".