'Prince of goalkeepers' Leigh Roose remembered in Wrexham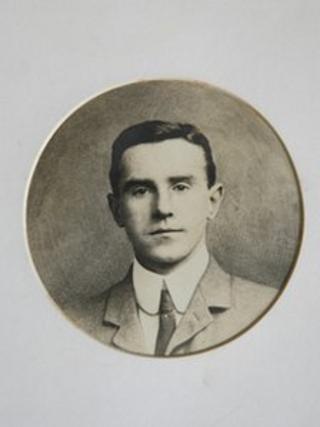 A footballer described as "the prince of goalkeepers" is to be remembered in a museum, almost a century after he died in the trenches in World War One.
Leigh Roose won 24 caps for Wales, including against Ireland at Wrexham's Racecourse ground in 1906.
He has also been named as the reason goalkeepers can only carry the ball in their own penalty area.
Roose's story will be told at a pop-up museum as part of Wrexham FC's 150th anniversary celebrations.
Born in Holt, near Wrexham in 1877, Roose was still a rising star when he played against Ireland in April 1906. The match provided what is thought to be the first surviving film of an international football match and a plaque was erected at the Racecourse to commemorate the event 100 years later.
In 1905, a national newspaper named him as goalkeeper in a world XI, and he was also described as one of London's most eligible bachelors.
"Tremendous kick"
Close friend Billy Meredith - who played for Wales and Manchester United - described him as "the prince of goalkeepers".
Sports writer Spencer Vignes, who wrote Roose's biography, said: "The rules in those days allowed goalkeepers to walk or run with the ball to the half way line before releasing it and Leigh had such a tremendous kick and long throw that he could easily put the ball in the opposition's penalty area.
"The Football Association got so fed up with him that they changed the laws of the game which meant that goalkeepers could only carry the ball in their own penalty area."
He added: "He was a genuine eccentric. There were certainly elements of George Best in his character because he liked a tipple and he liked the ladies."
Roose was killed during the Battle of The Somme, aged 38, in October 1916.
A temporary museum will be created to tell his story at Wrexham's Eagles Meadow shopping centre between 29-31 May.
Organisers have appealed for anyone with memorabilia to contact them.