Two Wrexham Maelor Hospital wards to reopen after virus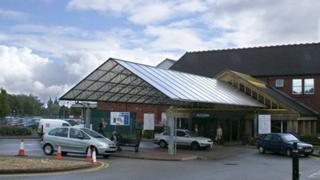 Two wards at Wrexham Maelor Hospital remain closed to new admissions after an outbreak of a sickness virus.
But health officials say third ward is now partially open and and another is due to reopen shortly.
Managers are asking people to stay away from the hospital if they have had symptoms of diarrhoea and vomiting in the last 48 hours.
A number of cases were reported in the coronary care unit last week but other wards have since been affected.
Mason and Bedwen wards both remain closed. Lister ward is partially open to admissions and Evington ward will reopen to admissions shortly.
Visitors are asked to follow the advice on signs at areas where visiting is restricted.
On Thursday, a spokeswoman for the Betsi Cadwaladr University Health Board said: "The infection prevention team is continuing to review the situation and the outbreak control group will meet again tomorrow.
"The nature of the outbreak suggests that it is caused by a viral infection which is circulating in the community and being unwittingly brought into hospital."