Anti-fracking meeting in Wrexham over 'dangers'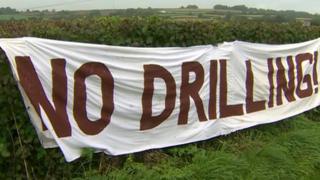 An anti-fracking meeting is to be held after an influential group of Lords said the process should be an "urgent national priority".
Frack-Free Wrexham said the meeting in Borras on Friday would warn over the dangers of "extreme energy extraction".
But a Lords committee said shale gas can bring "substantial benefits" to the economy, to national energy security and to the environment.
Wrexham councillors recently rejected a bid to test drill for coal bed methane.
Dart Energy wanted to drill in Borras and campaigners are expecting the company to appeal the decision.
Groundwater fears
On Thursday, the House of Lords Economic Affairs Committee called on the UK government to speed up shale gas development in the country.
Hydraulic fracturing of shale to extract gas involves pumping water, sand and chemicals are injected into the rock at high pressure to allow the gas to flow out to the head of the well.
Anti-fracking campaigners fear chemicals used in the process may escape and contaminate groundwater around the site.
Another environmental concern is that fracking uses huge amounts of water that must be transported to the fracking site, at significant environmental cost.
Frack-Free Wrexham's public meeting will be held at St John's Church from 19:30 BST.