Grieving mother backs volunteer doctors charity NWEDS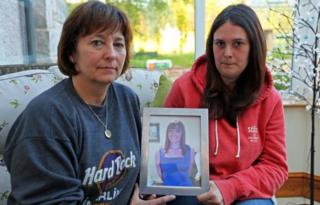 A woman whose 16-year-old daughter died in a road crash is marking her child's birthday by supporting a charity providing expert help to paramedics.
Sarah Jepson, from Mold, Flintshire, was a passenger in a car which collided with a cattle lorry on the A5104 at Penymynydd last November.
Her mother Jacquie will mark what would have been Sarah's 17th birthday with an auction of promises for the North Wales Emergency Doctor Service (NWEDS).
Mrs Jepson said it could save lives.
Two other people were seriously injured when the Peugeot 206 car they were travelling in collided with the lorry on a Friday evening.
The teenager had recently started A-levels at Coleg Cambria.
Survival chances
NWEDS was launched in July 2010 with four volunteer doctors responding to major incidents such as road crashes or mountain falls when alerted by the Welsh Ambulance Service.
Nine volunteer doctors are now signed up to the scheme covering the whole of north Wales, carrying out emergency procedures which paramedics are not trained to do.
"In Sarah's case there was little anyone could have done and no amount of medical care would have helped, such were her injuries," said Mrs Jepson, who is a specialist nurse and Bangor University lecturer.
"But there will, inevitably, be other incidents when the intervention of an NWEDS doctor will save lives.
"Paramedics can only do so much and it's really their job to scoop up patients and deliver them as quickly as possible to a hospital and into the care of a A&E consultant.
"The nearest trauma centre for north East Wales is North Staffordshire - for Anglesey and west Wales, it's Liverpool.
"But an NWEDS doctor can make an immediate assessment of the patient and provide advanced care giving the patient, potentially, a better chance of survival."
The fundraising event takes place at Gwernymynydd Village Centre on May 24.