Ex-teacher Gwawr Ceiriog struck off for taking money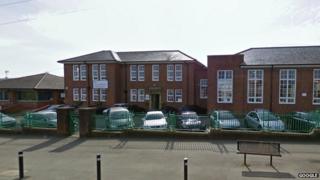 A teacher who kept more than £1,000 given by children for uniforms and fundraising, has been struck off.
Gwawr Ceiriog, 50, is "someone who is happy to take advantage of her pupils, colleagues, friends and family", the General Teaching Council for Wales (GTCW) heard.
She was deputy head and head of drama at Denbigh High School at the time.
Ceiriog was also convicted of fraud in 2013 for taking £1,400 from a theatre school she worked at.
The GTCW's professional conduct committee found her guilty of unprofessional conduct and issued a prohibition order for an indefinite period.
Panel chairman Peter Williams said: "We concluded that the behaviour was so serious as to be fundamentally incompatible with her continuation to be a registered teacher.
"She presents a significant ongoing risk to the reputation and standing of the profession and poses a risk to the public. There remains a risk of repetition of such behaviour."
The hearing was told she had kept money collected from pupils for uniform t-shirts, amounting to around £100, and about £500 raised at a charity event for Alder Hey hospital in Liverpool.
She was also accused of retaining £561 raised at a Children in Need event in November 2011, and only returning the money the following March.
Dismissed
Simeon Molloy, head of Denbigh High, told the panel he was first made aware if a problem regarding Gwawr Ceiriog when the bursar, Des Jones, told him she had not paid over more than £500 raised at the CiN event in spite of his repeated requests.
She eventually paid by cheque but he called Denbighshire council in to investigate because of his concerns over her professional conduct.
The matters regarding the t-shirts and the money raised for Alder Hey then emerged.
Ceiriog went on sick leave and was later summarily dismissed from her job.
In November 2013 she was convicted of fraud after admitting taking £1,400 intended to take children from the Shine Musical Theatre on a trip.
She also kept cash given to her for hooded tops.
Prestatyn magistrates heard Ceiriog, who is from the town, was trying to help a family member pay a fine.
Ceiriog was given a conditional discharge for two years and ordered to pay £1,400 in compensation. She was also ordered to pay costs of £100.
The committee also took her fraud conviction into consideration.
Chair Peter Williams said Ceiriog had been dishonest over a protracted period, showed a gross abuse of trust, and a "substantial failure to act as a role model for pupils".
It had an effect on the pupils, he said, and on the trust the public have in the teaching profession.