Kronospan's Chirk chimney extension approved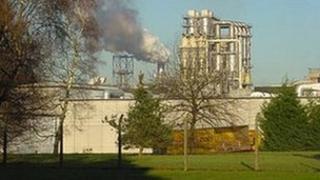 Controversial plans to extend a chimney at a chipboard factory have been approved.
Chirk-based Kronospan wants to increase the height of the 15m-high (49ft) stack to 22m (72ft).
A report discussed by Wrexham council on Monday said Chirk Town Council had "great concern" over "blue smoke being emitted continuously".
However, the report said the stack would improve emissions and a plume would be seen on "very rare occasions".
It concluded the "relatively minor increase in height will not have any significant impact" and recommended approval was granted.
There have also been other concerns raised, including potential increased noise.
Earlier this year, plans for a biomass energy-producing plant at the factory were approved by Wrexham council.