Wrexham FC: Dixie McNeil reunited with famous shirt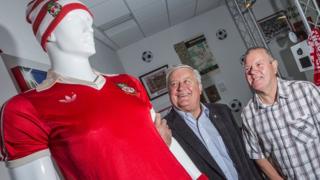 Former Wrexham FC striker Dixie McNeil has been reunited with a club shirt he last saw nearly 40 years ago.
McNeil, 67, had appealed for help to trace it as part of a campaign to drum up exhibits for a pop-up museum to mark the club's 150th anniversary.
The number nine shirt was handed to the museum by life-long Wrexham fan Geoff Reynolds of Buckley.
McNeil wore the shirt during the 1977-78 season and has now been told by Mr Reynolds he can keep it.
The former player had always believed his team mate, John Lyons, who played in the final game of the season because he was injured, threw the red shirt into the crowd after the final whistle.