Airbus admits safety charge over Donald Williams' death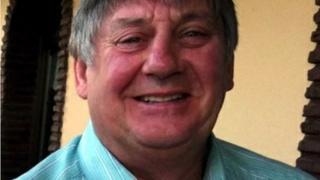 Airbus has pleaded guilty to failing to ensure the health and safety of its workers after a 62-year-old was crushed to death at its Flintshire factory.
Mechanic Donald Williams from Buckley died after suffering a fractured skull at the wing-maker's Broughton factory in November 2011.
The prosecution at Mold Crown Court was brought by the Health and Safety Executive.
Sentence was adjourned to Caernarfon Crown Court on 17 July.
Prosecutor Simon Parrington said the company had pleaded guilty to the charge on a full facts basis and that there was no need for the other charges to be put.
Charges that the company failed to assess the risks while working with a tractor, and failed to provide adequate training when using the machinery, were not proceeded with.
The formal guilty plea was entered on behalf of Airbus by defending barrister Andrew McGee.
Last year an inquest jury reached a conclusion of misadventure into Mr Williams's death.