Rhosnesni and Clywedog high schools admissions concern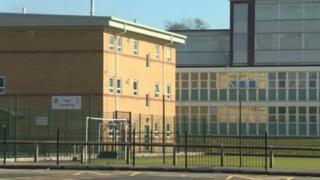 Wrexham's two "super schools" have seen a big fall in admissions in recent years, according to a report.
Councillors meet on Tuesday to discuss ways to reverse the trend at Rhosnesni High and Clywedog High.
Last month, both were selected among 40 schools to take part in a £20m Welsh government scheme to improve standards.
Education watchdog Estyn put both schools in special measures due to their performance last year.
A report to Wrexham council's executive board says the percentage of pupils applying for a place at Rhosnesni High School from its cluster primary schools has fallen from 71% to 36%.
The main alternative school used by pupils is Darland High School in Rossett where the intake risen from 20 pupils in 2010 to 90 pupils in 2014.
Pupils applying for a place at Clywedog High School from its cluster primary schools has fallen from 70% to 49%, declining to 93 pupils in 2014.
'Improve reputations'
Last month, the Welsh government named Clywedog and Rhosnesni high schools as part of its Schools Challenge Cymru which aims to improve the quality of teaching and learning by sharing expertise with high-performing schools.
The council report says an integral part of the programme will be that they focus on improving their transition processes with their feeder primary schools.
As part of that, the authority wants to "improve the reputations of both schools and to make them the first school of choice for all families and children living in the catchment area".
Both schools were formed by the £22.5m reorganisation of secondary education in Wrexham in 2005 with three schools - Bryn Offa, St David's and the Groves - merged into the two.