Flintshire firm's chemicals had 'explosive power'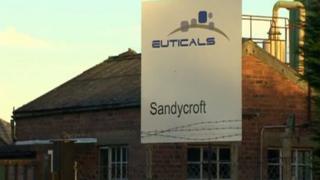 Chemicals removed from a former factory had the power equivalent to more than 100 tonnes of explosives, Flintshire council has been told.
Natural Resources Wales outlined the findings at the Euticals site in Sandycroft to councillors.
Flintshire chief executive Colin Everett said the council aimed to recoup the £100,000 costs of the clean-up work from the sale of the land.
The pharmaceuticals firm went into administration in July last year.
Natural Resources Wales said the site had been made safe.
Mr Everett said: "There is no government financial assistance made available to us, therefore earlier this year we agreed with Crown Estates the transfer of the abandoned site to the council at a nominal value so that we can take both responsibility to complete the clearance of the site and recoup most, or all of our costs from its eventual sale.
"Tenders are shortly to be invited for the decommissioning and decontamination of the site."