Rhyl Samaritans' volunteer appeal to tackle call rise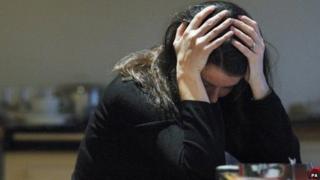 A shortage of volunteers is making it difficult for the Samaritans to cope with the growing number of callers in north-east Wales.
Rosemary Howell, director of the Rhyl branch covering the area, said it could only maintain its service by relying on the national network.
She said the pressure on the service was particularly bad at night, when it was harder to staff the phones.
She said the charity could offer more support if it had more volunteers.
Each year the centre, which celebrates its 40th year this year, receives over 9,400 calls from people looking for help and support.
It has 40 volunteers on its register, about 25% of whom are Welsh speakers, but that is not enough to keep the service operating around the clock.
When no local volunteers are available calls are directed to the charity's national network.
Financial worries
Mrs Howell said: "There is a lot more which could be done if we had enough volunteers.
"But at the moment we can maintain the service only because we have a national network."
Mrs Howell said financial worries were becoming an increasingly prominent feature of many calls.
"That is particularly so in this part of West Rhyl and it is worrying," she said.
"There are fewer and fewer jobs about and many of the jobs which are available are low-paid, so we are receiving more calls as a result."
She added: "If we had more volunteers we could spend time out in the community informing people about what we do."