Craig Maddocks: Francesco Prevete guilty of Wrexham murder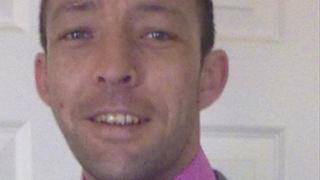 A man has been found guilty of murdering an amateur boxer who suffered 52 stab wounds in a frenzied attack in a Wrexham pub.
Francisco John Prevete, 46, had denied killing Craig Maddocks, 34, from Llay, in the Cambrian Vaults in June 2013.
But the jury at Mold Crown Court took three-and-a-half hours to convict Prevete after a 10-day trial. He is due to be sentenced on Friday.
The Cambrian Vaults had its licence revoked following the attack.
Mr Maddocks, a former partner of Prevete's niece, died of shock and haemorrhaging from wounds to the neck and chest inflicted by a flick knife.
Prevete had claimed he found Mr Maddocks with a knife in his back in a toilet cubicle and had tried to help him.
He told police at the scene: "I was just trying to plug his holes. The blood was spurting everywhere."
Prevete was covered in blood, which prosecuting barrister Karl Scholz said showed he was the attacker.
Defending barrister, Suzanne Goddard QC, had suggested someone else could have killed Mr Maddocks and left the pub without being seen.
She had also asked the jury to consider medical evidence from an expert witness who suggested Prevete had acted under an epileptic seizure.
'Sadistic conduct'
Mr Justice Jeremy Maddocks QC said there would be a mandatory life sentence but he would have to consider the minimum term Prevete should serve before he could be considered for release.
Mr Scholz argued it was a 30-year category case in view of the nature of the killing.
"It amounts to a hacking, part slicing and part stabbing, to the neck, which amounts to sadistic conduct," he said.
Ms Goddard said there was no evidence that Prevete had intended to use the knife. He had been behaving normally after attending his father's funeral and wake.
"This offence is completely out of character, and inexplicable, other than drink and drugs," she said.
Mr Maddocks' aunt Carol French read a victim impact statement in court.
"He was a hard working individual who was always smiling, a fun loving individual," she said.
"Craig had been an accomplished boxer in his early years but was not a violent person.
"He would practise his skills and confine them to the boxing ring.
"While in recent times his use of cocaine had caused him financial problems there was clearly another side to him."
After the verdict, Mr Maddocks' parents David and Edna Maddocks wore "Justice for Craig" T-shirts.
Mr Maddocks said: "We wanted justice for Craig and that is what we have got."
Mrs Maddocks said she had had to leave the court at times as she could not listen to the details of her son's death.
"Any amount of time he spends in prison is not enough for killing our son," she said.
"The trial has been horrendous."