Crematoria plans for Northop and St Asaph debated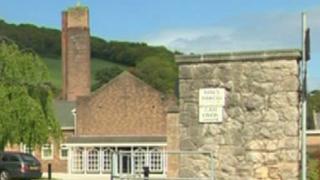 A special committee is to be to be set up to consider plans for a crematorium in Flintshire.
Residents in Northop, near Mold, are concerned the site could cause traffic problems through the village.
Flintshire councillors agreed to set up a dedicated group to consider the "major" plans by July.
Meanwhile, a firm has lodged an appeal after separate plans for a crematorium 16 miles (25km) away in St Asaph were rejected by Denbighshire councillors.
Some opponents claimed the future of St Asaph Business Park would be threatened by the development by Memoria Ltd which argued that existing crematoria are too far away and struggle to cope at busy times.
Denbighshire councillors rejected officers' recommendations to approve the development in March so they met on Wednesday to discuss appointing legal counsel to put their case to the appeal.
Residents in Denbighshire and Flintshire use crematoria facilities in neighbouring Chester, Wrexham and Colwyn Bay.
Funeral director Edward Davies says a new facility at Northop would reduce pressure on existing crematoria where it can take three weeks to book services.