Wrexham prison could 'strain' health service claim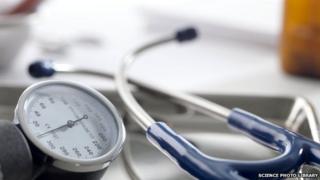 A super-prison planned for Wrexham could put a strain on local NHS budgets, researchers have claimed.
Healthcare at existing public prisons in Wales cost at least half a million pounds more than the £3.4m allocated by government in 2012/13, they said.
The Cardiff University team was also concerned at a lack of data on the cost of treating inmates outside prison.
The Welsh government said the costs and impact of the £212m prison on the NHS would be closely scrutinised.
Due to open in late 2017, it will be the largest prison in the UK, housing 2,100 inmates.
'Underfunded'
The Wales Governance Centre at Cardiff University said it was concerned that local health boards were already having to cover a shortfall between the £3.9m cost of primary healthcare in public prisons in Wales and the £3.4m allocated by the UK and Welsh governments, according to figures for 2012/13.
The costs of providing secondary, hospital-based care for inmates were not being recorded, the researchers also claimed.
Local health boards gave the team details of their spending on primary health care for their local prisons in 2012/13:
Cardiff and Vale - £2.24m for Cardiff Prison
Abertawe Bro Morgannwg - £1.2m for Swansea Prison
Aneurin Bevan - £450,000 for Usk Prison
Primary healthcare for the privately-run Parc Prison in Bridgend is the responsibility of contractor G4S, although Abertawe Bro Morgannwg is responsible for hospital-based services.
Research associate Robert Jones said: "This research shows that even before the Wrexham super-prison has been built, prisoner healthcare in Wales is already being underfunded.
"The fact that the Welsh government does not hold information on the [total] costs of prisoner healthcare in Wales raises some very real questions over the extent to which such services are being effectively scrutinised and accounted for."
Impact
A Welsh government spokesperson said: "The devolved settlement in relation to healthcare in the public sector prison estate was agreed with the UK Government in 2003.
"Inflation and some additional increases in staff costs has resulted in the need for us to provide additional healthcare resources for the prison estate to assure quality services are provided to prisoners.
"The responsibility to meet these healthcare costs falls to the relevant health boards."
The spokesperson added that arrangements were in place for key partners to "closely scrutinise the potential impact and costs in north Wales of the proposed new prison being built in Wrexham on the Welsh NHS".
Betsi Cadwaladr University Health Board said the new prison would have "significant investment implications" for the health service locally and that it was fully involved in planning for the project.
A health work stream group would look at funding arrangements to meet the increased health requirements, it added.