Arthur Jones: Search for Denbigh man on Crete narrowed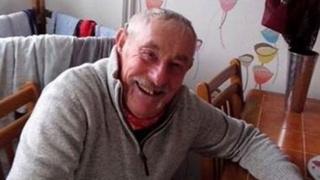 The search for a 73-year-old Denbighshire pensioner missing on Crete has been narrowed down to a specific area, his son has said.
Keen walker Arthur Jones, from Denbigh, has not been since 19 June.
He was staying in the city of Chania and possessions he would use to go walking are still in his room.
His son Jeff and five others flew to the Greek island on Saturday with 1,000 leaflets to give out, hoping British tourists remember bumping into him.
"We have been able to look through his possessions," said Mr Jones.
"He left in his room things he would take on a big hike - guidebooks, his emergency phone and big rucksack.
"The last sighting of him, he had a small rucksack.
"The authorities now have a specific area narrowed down to 50 square miles."
The alarm was raised when Mr Jones failed to turn up for his flight home last Tuesday and the family first learned he was missing when they visited his house the following day.
Earlier, Mr Jones said Greek police were struggling to pinpoint a location to concentrate their search as the potential area is "vast".
Speaking to BBC Wales from Crete, Mr Jones said his father was a "very experienced" walker who would stick to public paths and "doesn't attempt anything he knows he can't handle".
He said the family was "reassured" by help from Greek Police and said groups of walkers may remember seeing his father.
"It stands out more if you see a stranger walking rough terrain, especially a 73-year-old man," he said.
Mr Jones added the Red Cross was assisting the search, as well as fire and rescue teams and coastguards, while police in every station were aware of the situation.
He said his father was "not the sort of person just to walk past you... he'll have stopped, especially if they're British".
Father-of-four Mr Jones has been walking as a hobby for 30-40 years and had previously trained army cadets mountaineering and hill-climbing, his son said.
He arrived on Crete on 17 June and sent his family a postcard in the first few days, saying he was planning a walking trip.