North Wales and Cheshire armed police unit launched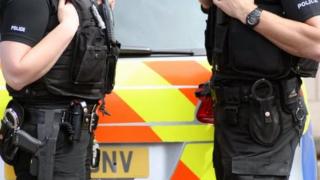 Armed police in north Wales have joined forces with counterparts across the border to improve response times to incidents.
North Wales Police and Cheshire Constabulary have formed a single Armed Policing Unit so officers nearest to a call-out will be deployed.
It comes as the number of firearms officers will be cut, because of retirement, by 16 by 2016.
One crime commissioner said the deal "made sense" with budgets tight.
"Through innovative collaboration like this, we can continue to provide enhanced specialist policing to communities across north Wales and reduce costs at the same time," said Winston Roddick, North Wales Police and Crime Commissioner.
As well as bases at police sites in Winsford, Cheshire, and St Asaph in Denbighshire, the Alliance will share a new base close to the border giving "easy access" to the motorway network to cut travel time to Chester, Warrington, Ellesmere Port in Cheshire and Flint and Queensferry in Flintshire.
Cheshire police commissioner John Dwyer said the partnership was a good example of how "operational collaboration can reduce costs".