Arthur Jones: Crete TV appeal in search for missing man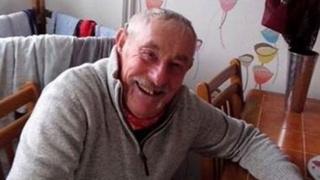 The family of a Denbighshire man who has gone missing while on holiday in Crete say they are hopeful a TV appeal will lead to more sightings.
Arthur Jones, 73, from Denbigh, has not been seen since 19 June so his son and five others flew to the Greek island on Saturday to join the search.
Police officials have told them they "doing everything" to find the father of four.
The family say an appeal due to be made on local TV could give them more clues.
Keen walker Mr Jones, who was staying in the city of Chania, arrived in Crete on 17 June and sent his family a postcard in the first few days saying he was planning a walking trip.
However, possessions he would use to go walking were found still in his room.
His son Jeff from Prestatyn and others have been handing out 1,000 leaflets on the island, hoping British tourists will remember bumping into Mr Jones senior.
In a message to supporters on Facebook, his son said: "I wish there was some good news to report.
"It was a very hot day yesterday and we covered a lot of ground, some on foot, some in a car and some on public transport.
"We will continue to do this today and go to areas to keep searching for a clue to his exact whereabouts."
He explained that investigators are as "perplexed as us that no one has come forward with a definite sighting but reassured us they are doing everything and will continue to do so until he is found".