Arthur Jones: Denbigh candlelit vigil for missing man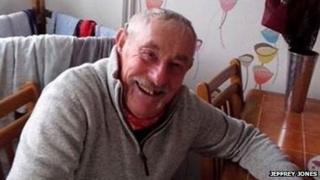 A candlelit vigil has been held later for a 73-year-old man who has gone missing on the Greek island of Crete.
Arthur Jones, from Denbigh, has not been seen since 19 June - two days after he arrived and did not catch his flight home.
He sent his family a postcard saying he was planning a walking trip but those who have flown to Crete found Mr Jones' equipment still in his room in Chania.
The vigil was held at 20:00 BST at the Angel in Denbigh.
People were able to buy candles for £1 with the money going to Mr Jones's family.
Leah Roberts, who is organising fundraising events, said: "We really are trying as a community to support the family and bring Arthur home.
"I'm exceptionally proud to live in such a humble community."
Mr Jones' son Jeff, along with other family members and friends, are on Crete handing out 1,000 leaflets on the island, hoping British tourists will remember bumping into the pensioner who was due to fly home on 24 June.
Mr Jones is described as 5'6" tall, medium build with short grey hair and a grey moustache.
Prime Minister David Cameron has also pledged to do "everything he can" to help find Mr Jones.