Crash burns victim Catrin Pugh returns to skiing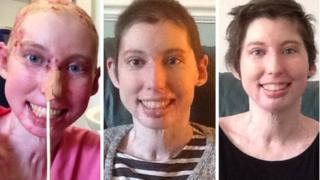 A woman who suffered 96% burns to her body has returned to the ski slopes as part of her recovery work.
Catrin Pugh, 20, from Rossett, Wrexham, was badly injured in a coach crash in the French Alps in 2013 as she returned from her job as a ski instructor.
But she is determined to be back using skis and is relearning on a dry slope with plans to head to France later in the year for a family ski trip.
"It's brilliant," she said. "I didn't think I would be able to ski again."
Miss Pugh was among more than 50 passengers on the coach when it crashed near Alpe d'Huez, killing the 63-year-old driver.
She was returning home after working the ski season.
The coach crashed as it travelled down a steep mountain road which features 21 hairpin bends.
More than a year after the accident, Miss Pugh is learning to ski with help from Disability Ski Wales and says the gradual progression through her abilities, from being held up by people either side to eventually skiing unaided, has been essential.
She said: "If I had just gone to dry ski slope and just bought a lesson, I think I would have been too scared to go down.
"I'm a bit worried about falling over. I haven't fallen over walking yet - if I wobble there's someone to catch me - I'm dreading the day that happens but I will just deal with it."
Ms Pugh said her rehabilitation involves at least six months' more physiotherapy to improve her muscle strength, lung capacity and flexibility. Even simple tasks like getting up from a chair can still be a challenge for her.
'Push myself'
"I'm trying to work on my stamina. I'm doing a lot of walking but it is extremely tiring," she said.
Her current limit is about 2km (1.2 miles), she said, but she is aiming to walk up to 5km (3 miles) in October.
Miss Pugh has a physiotherapist twice a week to help her with stretching and practising everyday tasks such as cooking.
She said: "I'm just trying to get back to normal really."