Missing Arthur Jones: Police narrow Crete search area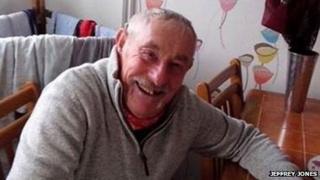 The search for a Denbigh man who has gone missing on Crete has been narrowed, police say.
Arthur Jones, 73, has not been seen since 19 June - two days after he arrived, and missed his flight home.
After a personal profile of Mr Jones was put together, local police are to comb an area of land between Mr Jones's hotel and a German war cemetery.
They will be helped by North Wales Police officers who are staying on the island an extra day to help the search.
Previously, officers were working on the basis that the pensioner had ventured into the hills.
Phil Benbow, chairman of the North Wales Mountain Rescue Association, put together the personal profile and will also assist officers on the ground on Thursday.
On Monday, police found Mr Jones's name in a war cemetery visitors' book where he had hoped to lay a cross on the grave of a friend's relative.
Police have appealed for British people who signed their names next to his on 18 June to come forward.
Anyone with any information should contact their local police force on 0300 3300101 quoting the North Wales Police reference number R103354 .