Missing Arthur Jones: No plan for police to return to Crete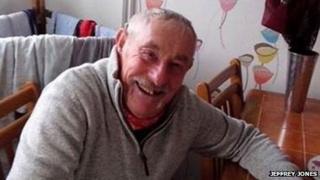 North Wales Police officers involved with the search for missing Arthur Jones on Crete say they have no plans to return to the Greek island.
The 73-year-old, from Denbigh, has not been seen since 19 June - two days after he arrived for a holiday.
But he had signed the visitors' book at a World War Two cemetery the day before he was last seen.
Officers returned to Wales on Sunday after spending a week helping Greek police with their investigation.
They stayed out there longer than expected as the search narrowed to an area between Mr Jones' hotel and the cemetery which up to 30 Greek police and volunteers searched on foot.
Det Ch Insp Gareth Evans, who travelled to Crete, told BBC Wales: "We don't have any plans to go out there again.
"We were out there by invitation of the Greek police to assist them in the search.
'Low crime rates'
"Obviously, if that was offered again, we'd have to review that and see what we could offer.
"Our role does fall back to supporting the family which we can do better from the UK."
Suggestions by Mr Jones' family that "foul play" may have played a part in his disappearance have been dismissed.
Mr Evans added: "Nobody can say that definitely nothing of a criminal nature has happened to Arthur and it's certainly something that's being considered by Greek police.
"However, there's nothing to support it. The area in which he went missing has very low crime rates.
"It doesn't have any undetected series of violent assaults, or robberies or muggings or murder even.
"And whilst you can never say 'it definitely hasn't happened', there's absolutely nothing to support that theory at all.
"Everything looks like Arthur's plans were to go for a short walk that day... and our feeling is he went a for a walk in the area of the hotel and that he's had some sort of mishap while out walking, or a medical episode."