Donald Williams's widow criticises £200,000 Airbus fine over death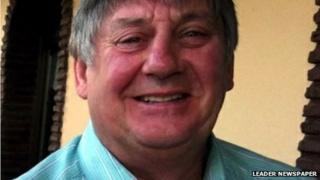 The widow of an Airbus employee who died in an accident at work has criticised the £200,000 fine.
Donald Williams, 62, from Buckley, was crushed while attaching a fertiliser spreader to a tractor at the Broughton plant in Flintshire in November 2011.
Mold Crown Court was told Airbus must also pay £58,891 in costs after admitting a health and safety breach.
Afterwards, Sheila Williams said the fine and bad publicity did not "amount to much in exchange for a man's life."
Mr Williams's inquest, which returned a misadventure verdict in 2013, heard colleague Stephen Shone entered the tractor cab and switched on the engine while Mr Williams stood behind the rear nearside wheel.
He pulled the lever to activate the system and raise the hopper then heard Mr Williams shout so pushed the lever back and saw his colleague trapped.
'Entirely avoidable'
Mr Williams suffered a fractured skull and was taken to the Countess of Chester Hospital where he died.
The court heard that Mr Williams and other colleagues did not normally operate the vehicles but had been asked to do so when the accident happened.
Prosecutor Simon Parrington told the court that accident was "entirely avoidable".
There had been no training given to Mr Williams and other maintenance workers, there was no manual available for the tractor and the task of fitting implements to tractors had not been subject to a risk assessment.
Airbus pleaded guilty to failing to ensure the health and safety of an employee.
Health and Safety Executive inspector Barbara Francis said: "He had been allowed to position himself in a dangerous area between the tractor and the spreader carrying out a job that had not been planned properly in advance."
Defending barrister Richard Matthews QC said Airbus was a world leader in health and safety but tragically the work of maintaining non-aircraft building items had at that time been outside the main works operation.
The head of the Broughton plant, Paul McKinlay, said Mr Williams was a dedicated, well-liked and highly respected member of the Airbus team and he wished to extend "heartfelt condolences" to the family.
Mrs Williams added: "Losing Donny has created a cavernous hole in my life which is just impossible to fill. No-one expects to go to work and not return home again and this should never happen.
"I am un-convinced that the current punishment is a sufficient deterrent for companies."