Glyndwr University: more time over visa fraud probe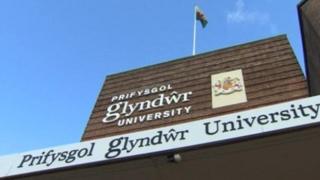 Glyndwr University says it has been given more time to respond to the Home Office over alleged visa fraud.
The Wrexham-based university is suspended from recruiting overseas students after losing its trusted sponsor status.
It follows a Home Office inquiry into alleged visa fraud which found some students may have obtained fraudulent English language certificates.
The university had been due to respond to the Home Office by Tuesday.
A spokesman said: "Glyndwr University is in dialogue with UKVI (UK Visas and Immigration) and has been given further time to make its response."
The university refused to give details of a new deadline.
Last month, an inquiry found nearly 50,000 immigrants across the UK may have obtained English language certificates required for a student visa, despite not being able to speak it.
Officers uncovered evidence of "serious concern" at some campuses, and the UK government down-graded Glyndwr University from its status as a "highly-trusted sponsor" of student visas.
Roughly 3,040 of Glyndwr's 8,800 students are from overseas (non-EU).
The Home Office said concerns centred primarily "but not exclusively" on its London campus, where 2,050 overseas students study.
There are 230 Glyndwr-sponsored students with invalid language test results, which rises to 350 when questionable results are included.
The Home Office said it had nothing to add to the university's statement.