Missing Arthur Jones: Friends widen search in Crete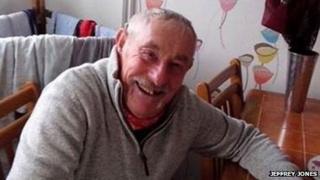 Friends of a 73-year-old Denbigh man missing in Crete say they hope to find a lead as they mount a search for him.
Arthur Jones has not been seen since 19 June, two days after he arrived on the Greek island for a holiday.
Official searches have focussed on the area between his hotel in Chania and a nearby wartime cemetery where he had signed a visitor book.
Six men from Denbigh, including firefighters and ex-soldiers, are now searching in the hills to the south.
Former Royal Welch Fusilier Roger Snaith, who is leading the party, said they decided to comb a wider area of scorching countryside and olive groves after liaising with North Wales Police officers who went to the island earlier this month to join a search.
"We've been doing 10-12 miles, five hours a day, before it gets too hot," said Mr Snaith.
"We're doing the best we can given the heat, but there are still no leads at the moment.
"The rolling countryside is similar to the Clwydian Range in north Wales - Arthur may have gone up there for a training walk before going further later in the week.
"He's a fit 73-year-old who didn't smoke or drink, but maybe he went a bit out of his depth with the distance or the heat," said Mr Snaith who went to Crete with Mr Jones's family in June after they realised he had gone missing.
As well as combing the countryside, the search party - which arrived on Tuesday - has also been visiting local villages, handing out flyers and talking to residents.
Mr Snaith said the scale of the task is proving challenging.
"One of the guys was overwhelmed by the size of the countryside and the terrain - it's absolutely vast," he said.
"We just need a break - somebody must have seen something."