Avox to create 70 new Wrexham jobs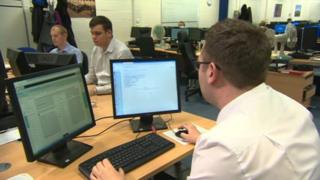 A Wrexham company which provides specialist information to financial institutions is creating 70 jobs.
Avox which helps other firms meet finance industry regulations made the announcement ahead of a visit by Economy Minister Edwina Hart.
Earlier this year, the company said it would recruit 200 new staff by the end of 2016 as part of its expansion plans.
The Welsh government's Wales Economic Growth Fund is contributing £160,000 to the company at Redwither Business Park.
Ms Hart, who is visiting the site on Tuesday, said the investment would "ensure that a high percentage of those new jobs will be created in Wrexham within a matter of months rather than years, providing an immediate boost for the local economy in terms of jobs and salaries".
Avox is a subsidiary of New York-based Depository Trust & Clearing Corporation (DTCC), and provides specialist information for financial institutions to help them meet industry regulations.